Miniature schnauzer puppies-Reg Miniature schnauzer breeder
Ellite Miniature and Giant Schnauzers
MINIATURE SCHNAUZER BREEDER IN ONTARIO CANADA-MINIATURE SCHNAUZER PUPPIES
Why Choose Us?
If you are interested in our miniature schnauzer puppies please take the time and either call or email us and introduce yourself . We dont have puppies often and we work with a waiting list ,our puppies are reserved most of the time prior to birth .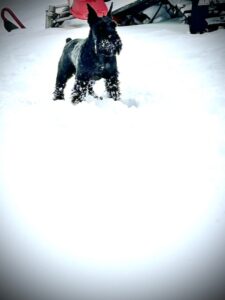 Miniature schnauzer puppies due in April 2023 😊  accepting reservations!!!
Please note that was brought to our attention that there is a scammer again trying to use a name close to ours ( Elite miniature schnauzer.com)they are in USA   note the name difference !!Always check with ckc ( we are listed as we are registered breeder ) .We are the only owners of the Elliteminiatureandgiantschnauzers we own the domain !!!
Welcome to Ellite miniature and giant schnauzers, your registered breeder located in Ontario , close to Thornbury and Blue Mountain . We breed standard colours only such as beautiful black/ black and silver and salt and pepper miniature schnauzers .We are registered breeder with ckc and one of the very few ref with Canada revenue is the law !! We are located North of Gta close to Thornbury. We have been breeding for 32 years !! Can be verified and found on ckc website as reg breeder .
Our dogs are health tested for MAC and CMR1 and patella clear . 
Registered
Full exam done by a licensed vet
First vaccines
4x Dewormings
Extremely well socialized
Lifetime breeder support
Health Guarantee
Microchip
We are a small in home breeding program so we don't have miniature schnauzer puppies often ,we breed for quality not quantity !!!
Miniature Schnauzer Puppies need love and attention.

Breeding miniature schnauzers is about researching lines ,health not mass productions.
Holding fee applies to be on the waiting list. Sorry we don't hold spots without the holding fee . 
 As much as we want to please everyone sometimes things that are out of our control ( loss , small litter etc ) we offer those that understand and wish to wait the opportunity to do so or refund immediately.
We have 32 years breeding experience and had the pleasure to work with many wonderful families all over Canada .
Breeding is a labor of love for us and it shows in our puppies .
Our miniature schnauzer and giant schnauzer puppies go home confident / well socialized.
We are one of the very few breeders registered with Canada revenue we pay tax on all sales it is the law !!! Tax is included in the price .
We are located north of Toronto in beautiful cottage country we are blessed to have a large property where along with our dogs ,two children ,two horses   we enjoy the quiet country life.
 We have plenty of references from our past  loving families that are listed on the website and can be verified at anytime.
Our reproductive vet is in Barrie Dr Lachtin ( Allandale clinic ) handles all that is involved in breeding ( progesterone/ insemination / patella testing) because here we do breeding responsibly  and our local vet in Thornbury that we love so much takes care of our puppies and our dogs 😊we are blessed to have such wonderful vets .
At Ellite Miniature and Giant Schnauzers our goal is to produce healthy schnauzer puppies with wonderful temperaments that will make great family members from our home to yours  .
We do not offer breeding rights so please do not contact us asking for breeding rights ,all puppies born at Ellite Miniature and Giant Schnauzers are placed as family companions only and proof of spay / neuter is required!!.
Our dogs are registered .
We raise our miniature schnauzer and giant schnauzer puppies in our home , very well socialized with all kind of noises and children . We raise healthy ,confident miniature schnauzer and giant schnauzer puppies .
Our MINI /GIANT SCHNAUZER puppies will be seen by our vet for a full exam prior to leaving our home ,will be vaccinated and microchiped .For more information please visit our page "Reservation Information "
We do offer shipping in Canada with west jet unless you chose to pick up in person and to Usa with United airlines or with our nanny ( he will hand deliver straight to your arms :)) Puppies fly out of Toronto Pearson,
All puppies will have natural look .
Thank you
Joe