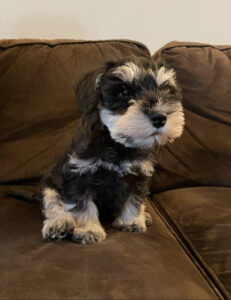 Hello!
Just wanted to send you a little update on Yoda. 😊
He slept the whole way home and enjoyed some playtime in the afternoon. We put him down for a nap in his crate and he loved it! He's only had a few accidents, but is usually very good at going potty on his training pads.  At nighttime, he walked right back into his crate and slept
from 10:00-3:00
, went for a quick potty break, and then
3:00-6:00
. His personality is starting to show – he loves to play, but also loves snuggling on the couch. We love him so much already!
Thanks again for everything! We'll definitely stay in touch!
-Julianna and Braden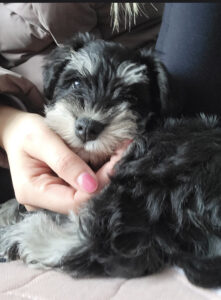 Hi Marcela,
I hope you managed to get back safely! Weather here was bad a few nights ago but not anymore.
It was really nice meeting the both of you too, and my heart is so full with Beau. I had done a ton of research and was expecting to not sleep at all this week but Beau has been an absolute angel.
I had transitioned him from the potty pads to a grass patch I bought and he picked it up right away. He cries for a little bit in the pen but settles really quickly. No issues with him being in his crate which is making crate training a dream. With all the covid puppies I want to make sure if we transition back to in person work and school he will be OK without separation anxiety and I have to say he is so very smart and well behaved. Yesterday he walked right in the crate by himself and took a very long nap.
He slept almost through the entire night, I had to wake him up for a potty break and he whined a bit when put back in the crate, but settled so quickly.
I have never met a puppy so smart and well behaved at such a young age too. I can tell that a lot of effort has gone into his temperament and into his socialization. Thank you two so much for raising such a wonderful puppy. I just know he's going to be the best dog and the best friend.
Everyone cannot stop complimenting how handsome and adorable he is.
Ivy
Hi Joe & Marcela
Apologies for sending this so late but thought we would send an update after a couple months
Otto has fit right into our family and continues to bring us joy especially during covid
 His temperament is calm and loving, very engaging and not nervous. He has had all his shots and vet appointments. We just completed additional blood work and all is healthy
I have attached some pictures
Thank you again
Richard
HAPPY BIRTHDAY HEIDI
THANK YOU MAY FOR THE BEAUTIFUL PICTURE .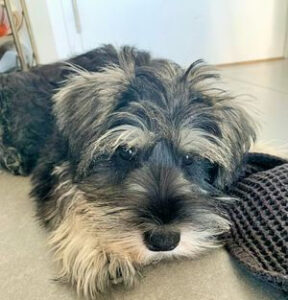 Hi Joe and Marcella,
We wanted to provide an update on Pepper, the little girl we picked up from you when she was 10 weeks old.  Pepper is doing very well, she has received all of her vaccinations now and had her first puppy intro groom at a groomer that specializes in terriers and hand stripping/carding.  Both the vet and groomer mentioned how calm and well mannered she is and that she has a wonderful temperament.  The groomer said out of all the schnauzers she sees, Pepper has the most calm temperament.  Pepper is a quick learner, she has already learned a number of commands and does very well on loose leash walking.  She is very curious and has discovered she can reach the dish towels hanging on the cupboard! but for the most part keeps busy with toys and loves to play. She is almost potty trained with very few accidents in the house and sleeps through the night for about 6-7 hours before we take her out for her first bathroom break in the morning.
We also wanted to let you know that a lot of people have commented how nice it is to see that she has her tail and that it looks very cute.
Good day Joe /Marcela,
Our Miky is perfect, a wonderful smart family member, we love him very much! He is getting used to his new place, every day he shows more confident and loves Deana which she sings to him every day!
Dragos S