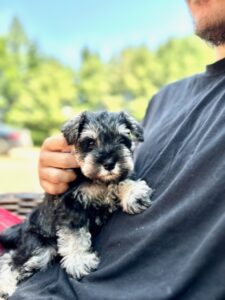 MINIATURE SCHNAUZERS WAITING LIST FOR FALL/WINTER BREEDING IS OPEN! Black and salt and pepper puppies will be born .
If you are looking for miniature schnauzer from a registered breeder please take the time
to give us a call or email us we would love to know as much as possible about the families interested in adopting from us  .We are a small miniature schnauzer breeder and provide wonderful/ healthy miniature schnauzer puppies as family companions for many years to families all over Canada and USA

If you read the reviews you will see how well our miniature /giant schnauzer puppies adjust when they go home. Our schnauzer puppies interact with us all day with our two rescues cats and are custom to all kind of noises and grooming. Raising  schnauzers is a labor of love . We don't mind answering questions and will always be here to give advice .We keep all families updated with pictures at 2/4/6 weeks so you can see how your puppy is maturing. We understand the excitement and will make the process as easy as possible. Gladly answer your questions promptly and we are always here for advice. Joe
❇️FULL EXAM
❇️FIRST VACCINE
❇️DEWORMINGS
❇️MICROCHIP
❇️HEALTH GUARANTEE
❇️FOOD
✅collar /blanket with siblings scent
FEEL FREE TO CONTACT US WITH ANY QUESTIONS YOU MAY HAVE at 905 531 3204 or by email.